Livestock Manure Resource Utilization Demonstration County-Yunlin County's Environmental Protection Unfolds "Turning Livestock Manure into Gold; Farmlands and Rivers Rejoice"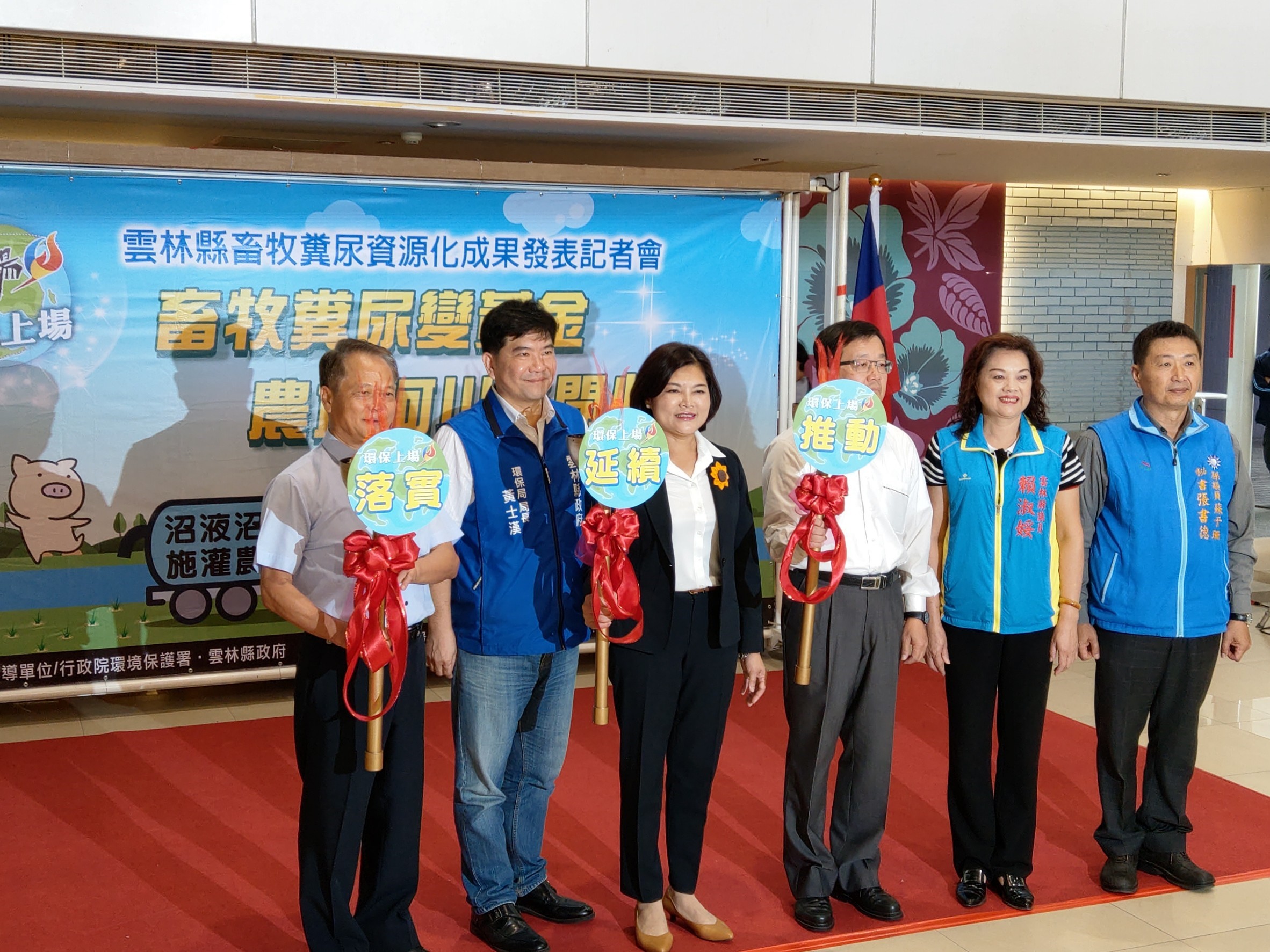 2019-11-27
 Environmental Protection Unfolds "Turning Livestock Manure into Gold; Farmlands and Rivers Rejoice"
The Environmental Protection Bureau held the "Livestock Manure Resource Promotion Result Press conference" this morning (27th) in the people-friendly space that is Yunlin County Government. At the venue, Environmental Protection Administration, Executive Yuan, R.O.C. (Taiwan) Senior Environmental Technician Chen, Jun-Ming, Yunlin County Magistrate Zhang, Li-Shan, Chairman Hong, Chong-Pin of San Jeou Farm, and other representatives took turns to light up the torch of "policy promotion," "continuous promotion," and "implementation," symbolizing the passing down of the spirit and policy execution by government agencies to private sectors and co-creating a win-win situation benefiting the livestock industry, agriculture, green energy development, and river protection. At the same time, the nation's first "Fermented Liquid and Residue Excellent Livestock Farm Selection" Public Award Ceremony was held today. The livestock farm award winners: San Yuan Livestock Farm in Linnei Township, San Jeou Farm in Er-lun Township, Wang, Wen-Qu Livestock Farm in Tuku Township, Wang, Tai-Sheng Farm in Huwei Township, Chuan-Yuan Farm in Mailiao Township, Zhan You Livestock Farm in Yuanchang Township, and Yu Sheng Livestock Farm, seven in total. With the demonstration of the county's livestock farms and the establishment of a model of cooperation with farmers, more farms and farmers are expected to join the "livestock manure resource utilization," achieving more apparent river pollution control results as Yunlin's environmental protection unfolds!
 In order to improve the water quality of Xinhuwei River, Beigang River basin, and major drainages, it has been five years since the livestock manure resource utilization policy promotion by the Yunlin County Environmental Protection Bureau. In cooperation with the Agriculture Department and in joint efforts, 255 livestock farms county wide have completed livestock manure resource application operations (including 190 farms for fermented liquid and residue farmland fertilizer use, 30 farms for agricultural and business waste case reutilization, and 35 farms for drain water recycling for watering plants). Each year, about 1.229 million tons (equivalent to the water volume of 490 standard-size swimming pools) of livestock manure are used for irrigating fields, with the irrigation area reaching 970 hectares (equivalent to 130 times the size of the Douliu Baseball Stadium). All the farmers gave high regards after using the livestock manure, fermented liquid, and residue for irrigation, which fully or partially replaced chemical fertilizers for irrigating more than 37 economic crops, including rice, corn, bamboo shoot, etc., saving chemical fertilizer costs estimated at over NT$20 million. In terms of river water quality purification, it is equivalent to decreasing 148,000 pigs and 7,128 cattle water from entering the river, decreasing biochemical oxygen demand (BOD) by 7,822 tons and suspended solids (SS) by 10,474 tons annually. The BOD reduction volume accounts for 65 folds of the 5-year average for the Douliu Water Resource Recycling Center, and the county implementation effectiveness has topped the nation for four consecutive years, making the county a role model in Taiwan due to its outstanding performance.
 According to County Magistrate Zhang, Li-Shan, livestock manure resource utilization is not just a slogan, it is an important part of sustainable management for the livestock industry. In future operations, a mutually beneficial model for county government, private livestock industry traders, green energy enterprises, and agricultural development will be achieved, which will directly or indirectly affect livestock labor manpower, land, and equipment costs. The people may get their upstairs and next-door neighbors to jointly participate, giving the livestock industry's waste a second chance, turning them into a recyclable resource. This will not only reduce environmental pollution but will also save money and labor for farmers, thereby developing a circular economy in agriculture and ignite the general public's recognition for local environmental protection. Let us all move towards the goal of "Yunlin County's environmental protection unfolds fertile rice fields and clean water."
 According to Director-General Huang, Shi-Han from the Yunlin County Environmental Protection Bureau, the Bureau has invested considerable resources on providing guidance to livestock farms in applying for the Fermented Liquid and Residue Farmland Fertilizer Use Plan, taking the initiative to simplify administration and offer assistance, assisting livestock farms in writing proposal and conducting fermented liquid and residue, soil, underground water testing free of charge. Over 60 town and township briefings, and agricultural and animal husbandry matching briefings and demo seminars were conducted, successfully matching famers, farmers' associations, cooperative farms, friendly farms, Taiwan Sugar farm, with the farmland area exceeding 400 hectares. A number of demonstration videos on the effectiveness of fermented liquid and residue irrigation were filmed. Fermented liquid and residue collection vehicles purchased by Mailiao Township Office and farmland storage tank funding for 15 livestock farms were subsidized with the amount reaching NT$1,480,9118. Eight irrigation teams were set up, and a local irrigation vehicle transportation and irrigation system was established to strengthen the convenience of fertilizer transportation and irrigation, devise ways to make irrigation more convenient, and enhance farmers' intent of use. In addition, committed to connecting the livestock industry and agriculture with the world and reducing environmental costs, diversified promotion methods including five large-scale and small-scale livestock manure centralization resource treatment plans were promoted. We welcome the enthusiastic participation of Yunlin County livestock farm owners to help make the rivers more refreshing and life more beautiful! For those planning to take part in the livestock manure resource utilization related plans or is a farmer requiring matching, please contact the Department of Water Quality Protection, Yunlin County Environmental Protection Bureau on the Service Hotline: 05-5526255.